These days, phones in the department are getting better and better. Bringing all the premium features down to the budget segment is the main aim of all these devices. And they do fulfil their promises well. So, We have compiled a list of best phones under 30000 in India that you should consider before getting into the great madness that is buying the mobile phone. Be it the build quality or the performance, these smartphones which are featured in the list of best phones under 30000 give a good competition even to the premium devices. So, let's dive in to see what we can get for our valued money.
Note: Actual prices may vary when you visit the respective site through the link below, as it is subject to change due to various reasons.
Best Phones Under 30000 In India To Buy In December 2018
---
Xiaomi Poco F1 (Armored Edition)
Poco F1 starts for a far lower price but if you can afford it, the special armoured edition is still a great buy. The only con which one would nit-pick in the base model is its design. But this special edition solves that too. The top armoured variant is also built around the same mantra around which the base model is based – great performance while still being light on the pocket. The basic specifications are the same with some minor but worthwhile upgrades which can make your whole experience of the phone a lot better. So, let us dive into why this variant still deserves a place in this list of best phones under 30000.
Quick Review Of Xiaomi Poco F1
Build and Display:
The aesthetic of the armoured edition is one of the most important and striking change over the base variant of the Poco F1. Instead of the polycarbonate structure, this phone uses a Kevlar armed fiber for its back. This move shoots multiple targets at once. It gives a really nice grip on the phone and also looks very premium while negating all the fingerprint smudges that are a problem for the glass back phones. As it is already known, Kevlar is used for industrial purposes and so, it can be surely said that the phone is solidly built.
On the front, it packs a 6.18-inch (1080×2246) IPS LCD panel protected by Gorilla Glass. It does feature a notch, which is pretty common for phones now-a-days, but here that notch also house the infrared face-ID sensor which seamlessly works at night. The type-C port along with headphone jack always pleases a user.
Cameras:
Now this is an area that is totally unchanged. But that isn't a bad thing specifically as the cameras on all Poco F1 variants shine under most of the circumstances (yes, also during low-light). On the rear, it uses a dual-camera setup with a 12 MP f/1.9 primary sensor and a 5 MP f/2.0 secondary depth sensor. It does have HDR and EIS, but at this price, OIS would be better. Nevertheless, the camera works really well be it in broad daylight or totally dark. In videos, the images are well stabilized using EIS but they can easily be better. It can record in 2160p at 30 fps and also slow motion in 1080p at 240 fps. Talking about the selfies, the front shooter is a 20 MP f/2.0 sensor which works really great most of the times. It is pretty reliable, mostly because of the HDR available.
Specifications and Performance:
Poco F1 already had excellent specifications and in this armored variant, Xiaomi has made it even better. Xiaomi Poco F1 runs on the Snapdragon 845 processor along with an Adreno 630 GPU. It crushes multitasking with 8 GB of RAM and has a whopping 256 GB of on-board storage which most probably will never run out. This controls the thermals well because of the LiquidCool Technology which maintains the processor at its maximum level, no matter how long it is under stress.
The 4000 mAh battery easily lasts over a day with medium to high gaming and it does support QuickCharge 3.0 for the times when you would need a socket. The Poco special MIUI looks much cleaner and smoother than the original MIUI and feels great to use. It dominates games with the horsepower it has. In short, this phone is a performance beast.
Conclusion:
There is not much to say here. Poco F1 was already a great smartphone with some corners cut for an aggressive price. In this variant, most of those corners have been remolded to perfection, which is a script for a top phone in the list of best phones under 30000. This Poco F1 has a mass appeal and would suit most of the users, but if your need is a flagship camera, you do need to look further.
PROS & CONS
Pros:
Flagship Performance
Great Battery
Kevlar Build is Sturdy
Cons:
No OIS
EIS also vanishes at 4K
No HD Widevine DRM support for apps like Netflix
---
ASUS Zenfone 5Z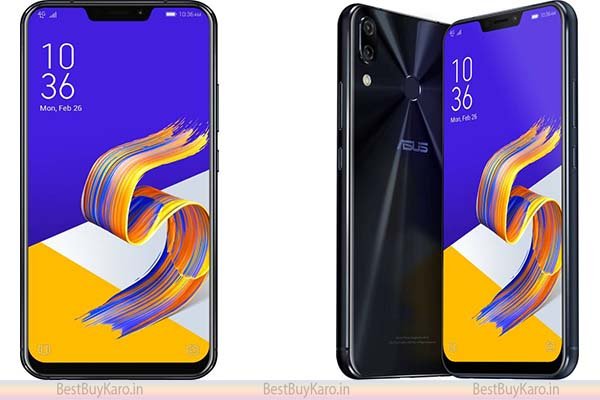 ASUS is a laptop company which started making phones with the Zenfone lineup. This series became extremely popular with the users as they always have great performance with reasonable price. This addition is no different than its predecessors. ASUS Zenfone 5Z brings the flagship feature in the budget and does that in style of its own. The experience it offers makes it an easy choice for inclusion in the list of best phones under 30000. This is the most premium phone you will find in this list and it gives a direct competition even to the likes of OnePlus.
Quick Review Of ASUS Zenfone 5Z
Build and Display:
As I said earlier, ASUS have a style of their own. And it is evident as soon as you see its design. The Zenfone 5Z looks absolutely stunning from every angle you can lay your eyes on it. The glass sandwich design feels very premium although it is expectedly slippery and a fingerprint magnet. The trademark ASUS shining-line design merging in the fingerprint sensor is eye-catching. On the front it flaunts a 6.2-inch (1080×2246) Super IPS Full HD+ display which is hands down one of the best IPS panels ever. It is crisp and bright even for the sunniest of days. The USB-C port along with Quick Charge 3.0 (18 W) is good for the price. The frame is made of aerospace-grade aluminum which gives this phone a sturdy feel in hand.
Cameras:
The camera is where the flagship killers start to fall apart. This is not the case for this ASUS Zenfone 5Z. The dual camera setup is done right here where the secondary camera gives additional functionality. The primary camera is the Sony IMX-363 12 MP f/1.8 sensor which is used in most of the premium devices. It works great and also enables us to shoot in RAW format without any image processing.
The secondary sensor is an 8 MP f/2.0 wide-angle camera which helps us to take wider shots capturing more of everything. The front selfie camera is an 8 MP f/2.0 shooter which works really great, even in low-light. The best part is that the primary 12 MP sensor has OIS and all the sensors have EIS enabled so the stabilization is pretty great. It does support HDR on both rear and front so that is a plus for sure.
Specifications and Performance:
Here is the aspect of the phone which makes it truly flagship material. This ASUS phone runs on the Snapdragon 845 chipset which is currently the best SoC offered by Qualcomm. It is paired with a capable Adreno 630 GPU which makes surfing through heaviest of games a breeze.
For multitasking, it has 6 GB of RAM with great memory optimization. It has 64 GB onboard storage which can be easily expanded by using a SD-card. Features like gesture navigation and face-unlock were added by an OTA update and they work smoothly.
The audio on this phone is truly high-resolution, both from speakers and earphones. It gets really loud without much grain in the output. It comes with DTS-Audio and supports Apt-X Audio when listening on Bluetooth v5.0+ headsets. The provided earphones in the box are good for normal use but it is recommended to go for earphones with high-res support because the phone is capable of enriching audio experience. It absolutely is the loudest phone in this list of best phones under 30000
Conclusion:
This phone is easily one of the best phones under 30000, be it in any aspect – the performance, the camera or the build. So, if you are eyeing the best flagship experience under 30000, this phone should be a no-brainer.
PROS & CONS
Pros:
Awesome display
Flagship Performance
Great Sound Output
Cons:
Battery Backup is Average
ZenUI still needs to be improved.
Camera sometimes Overexposes shots
---
Honor View 10
With every phone they launch, Honor sits more firmly in the Indian smartphone business. This Honor View 10 is surely one of those phones which hyped up this brand. This phone is a true beast and is an all-rounder in every aspect. With the performance it offers, it had to be in the list of best phones under 30000. So, let's see how this phone comes out under different parameters.
Quick Review Of Honor View 10
Build and Display:
Where all the phone manufacturers are going to a glass back, this Honor View 10 still rocks a unibody metal design. The antenna lines on the back are rounded around the corners and go with edges. This looks premium and really well hidden. On the front, this phone features a 5.99-inch(1080×2160) FHD+ Full View display with the 18:9 ratio. The bezels are really fine and this makes the phone look sleek. The display panel is bright and sharp and shows punchy color. It also has a fingerprint sensor up front which works fast as all the honor devices. On the bottom it has a type-C port that is always good to see. As the phone is not that wide, one hand usage is still comfortable. All in all, this Honor View 10 is solid in terms of the build and display.
Cameras:
This is the parameter which really distinguishes this Honor View 10 from its younger sibling Honor Play. On the rear, it packs a 20 MP monochrome sensor and a 16 MP f/1.8 RGB sensor. The 20 MP sensor also has the capability of shooting 2X lossless zoom. It also features the AI capabilities that all companies today boast off. That mode only proves its worth during low-light shots where it enables the phone to capture more light and hence more details. There is EIS available after the update but the stabilization still isn't that good. On the front, it has a 13 MP f/2.0 shooter which takes some crisp and detailed shots. The exposure is just right and makes the photo taking experience pleasant.
Specifications and Performance:
Here too this Honor phone shines. It offers the flagship performance, not only in day-to-day tasks but also in CPU intensive tasks like gaming. This is all possible due to the HiSilicon Kirin 970 chipset along with the Mali-G72 GPU. For smooth multitasking, it uses 6 GB of RAM and for storage it has a whopping 128 GB of internal memory, which I don't think would easily run out. Games like PUBG and Asphalt 9 run without any hiccup even for long sessions. It has a long lasting 3750 mAh battery and fast charging support when you do need a charge. You do get GPU turbo after an update so the performance gets improved while gaming. It also features NFC which is necessary for some mobile payment options. Overall, it's a great performer.
Conclusion:
What will you get when you make a premium device while putting an Honor touch to it. The answer is this phone. The answer is this phone and thus it deserves to be on this list of best phones under 30000. So, if you want a great performer and a great camera, all in a nice build and a budget price, this Honor View 10 can be easily considered as your next device.
PROS & CONS
Pros:
Great Processor
Good all-round Camera
Good Value for Money
Cons:
Video Stabilization is not that great
EMUI is not for everyone
Speaker Output is just Average
---
Vivo V11 Pro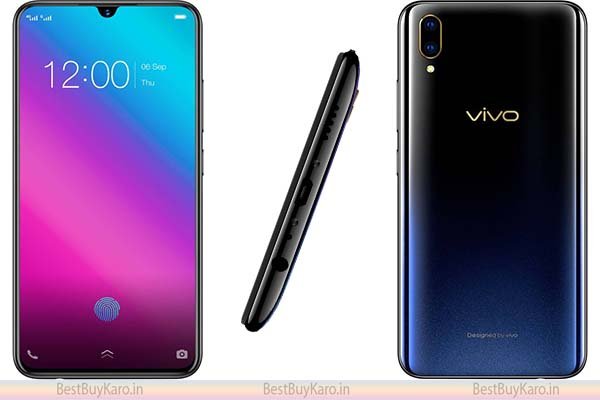 Vivo has been playing many cards right to reap maximum benefits out of this price segment. The lower model Vivo V11 is a great phone for its price and this one is no different. This Vivo V11 Pro is an overall bump from its younger brother (which it should be as it is the pro version) and it comes with two qualities which are pretty neat to boast. One is that tear-drop notch with the minimalistic chin. And other is the in-display fingerprint scanner which helps it earn a spot in this list of best phones under 30000. This may be already enough to pursue you but still have a detailed look on what tis phone has to offer.
Quick Review Of Vivo V11 Pro
Build and Display:
This Vivo phone when held in hand screams premium. The device is light and weighs at just 156 g. Although the back does look like glass but is plastic. The color of the phone is absolute gorgeous and sleek and so, easily qualifies as a business phone. The front looks totally futuristic. It does house a notch but it is so small that is does seem acceptable. Moreover, that notch consists of the camera module along with other sensors including the infrared sensor which enables face unlock even at night. The 6.41-inch (1080×2340) Super AMOLED Full HD+ display is almost edge-to-edge with great viewing angles. The micro-USB slot is disappointing at this price point but it still has fast charging. The buttons are sturdy and the whole phone feels solid to hold.
Cameras:
Vivo does advertise itself as camera and music company. Coming to the cameras, this Vivo V11 Pro on the front packs a dual camera setup with a 12 MP f/1.8 sensor and a 5 MP f/2.4 depth sensor. Vivo boasts the AI capabilities of this device and this camera setup does fulfil on their promise. It takes some beautiful shots with accurate color reproduction. The HDR takes multiple shots and merges them into one to get the best exposure setting of the photograph. The front 25 MP f/2.0 sensor makes taking selfies with this device as smooth as possible. Shots on both normal and AI mode are good and even the night shots are pretty usable. Videos are stabilized with EIS at 1080p but the stabilization vanishes once the 4K mode is on.
Specifications and Performance:
Vivo V11 Pro runs on Qualcomm Snapdragon 660 processor supported by the Adreno 512 GPU. This is a very capable and tested chip which is found in most of the mid-range devices. The horsepower is powered by a 3400 mAh non-removable battery. It has 6 GB of RAM and 64 GB of storage.  One of the distinctive features is the in-display fingerprint scanner which sure is very amusing to use. It does work fast and will get better over the updates. It can easily play games like PUBG on medium graphics settings and the day-to-day tasks are nothing for it.
Conclusion:
This Vivo phone does have a lot of positives going for it. An awesome AMOLED display, great camera and an in-display fingerprint sensor which is not usually seen in this price range. If seen by front camera performance, it clearly is at the top of this list of best phones under 30000. So, if you require a great display and good cameras along with the tech that will last long, then this is the phone to get.
PROS & CONS
Pros:
Great AMOLED Display
Good Overall Cameras
Fast Charging
Cons:
Control Option is Not Editable
Device gets Heated if used while Charging
Earphone Output is Not Great
---
Nokia 7 Plus
The best thing that HMD global did while reviving the brand-named Nokia was to ship all their new devices under Android One program. This ensured that all the new phones come with the loved stock android experience while receiving monthly security patches and latest android updates. This is not all which is special with the Nokia 7 plus. It is a true budget phone which nails all the right areas – be it hardware or software. Putting this phone in the list of best phones under 30000 was a no-brainer. Let us see why?
Quick Review Of Nokia 7 Plus
Build and display:
The first thing that comes to mind on hearing Nokia is the durability and the sturdiness of its devices. Nokia 7 Plus totally excels in that criteria. It was built for both, looking beautiful and to last long. And it does it in style. The copper accents on black variant look premium and stand tall in a group of pale same-looking smartphones. On the front, there is a 6.0-inch (1080×2160) IPS LCD panel which is great for multimedia consumption. It looks great with good viewing angles. Type-C connector is always welcome as it brings a common platform everywhere and also because it supports fast charging.
Cameras:
Before being grabbed up by Microsoft, Nokia had one of the best cameraphones out there. This was due to the superior Zeiss lens used in them. The best part about the new Nokia is that it still pertains with the Zeiss branding and with it brings great camera performance. It features a dual camera at the rear with the primary sensor being a 12 MP f/1.8 wide angle lens. The secondary camera is a 13 MP f/2.6, 2x optical zoom, a telephoto lens which is better than having an ordinary depth sensor which does not bring any additional functionalities.
The primary camera is capable of shooting in 2160p at 30 fps with EIS. This does help a little but at this price OIS is a better option. HDR is available on the rear so that's good. The front sensor is a 16 MP f/2.0 shooter which clicks some great selfies provided that you have steady hands. In all, the cameras have great potential which can be easily made better via updates.
Specifications and Performance:
This Nokia 7 Plus does not come with crazy gaming performance but is good enough for moderate to heavy gaming and can easily crush the day-to-day tasks. It runs on the Snapdragon 660 chipset and the Adreno 512 GPU, which is a combination that is found in most of the mid-rangers. It delivers respectable performance as expected. The best part is the massive 3800 mAh battery which can last the complete day for the heaviest of users.  For multitasking, it comes with 4 GB of RAM, which considering the stock android is enough for it.  The fingerprint sensor is not the snappiest on the market but it is not a deal-breaker.
Conclusion:
There are many positives about this device and they easily outweigh the flaws (which are few to begin with). So, who should consider tis phone? Well anyone who wants a long-lasting battery with great build quality with more than decent performance. And if you are that person then this should be your phone from this list of best phones under 30000.
PROS & CONS
Pros:
Great Build and Display
Long lasting battery
Good Rear Cameras
Cons:
Front Camera performance can be better
A little bit overpriced for specifications
Speaker Output is average
---
Xiaomi Mi Mix 2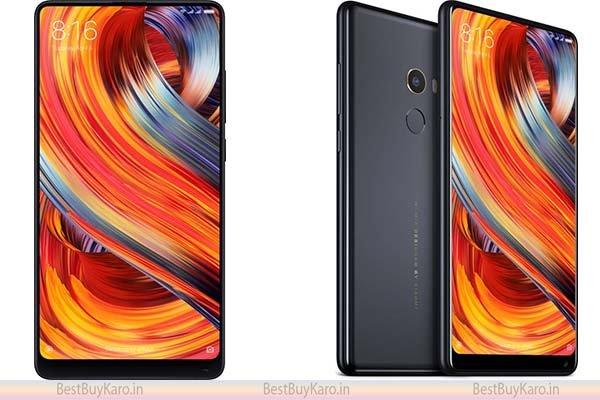 Xiaomi is not known for innovation as such. They are famous for making budget phones with as many features they can bring from the premium segment. But Mi Mix and its successor Mi Mix 2 are not like Xiaomi's other devices. They work towards a top bezel-less display and achieve it with a small sacrifice i.e. shifting of the front camera to the bottom. This innovation is enough to earn it a spot in our list of best phones under 30000. But is the no bezel design worthy of the sacrifice? Let's find out.
Quick Review Of Xiaomi Mi Mix 2 with Price
Build and Display:
Build is the most interesting aspect of this phone. It comes with a ceramic back and an aluminum frame which makes the back slippery and the device heavy as a whole. Some users like it when the phone feels heavy. So, it can be a pro or con relatively. Now coming to the thing that stares at us every time we use our device, the display. It packs a 5.99-inch (1080×2160) IPS LCD panel with bezel-less top. Not having bezels does make things different and makes your phone stand out of a crowd. It also has some disadvantages while consuming media as the content will always be off-centered. Overall, the display is bright and works great for everyday use.
Cameras:
This phone is clearly not aimed towards camera users – especially selfie lovers. The front 5 MP f/2.0 sensor is horrible. It lacks details and works well once in a blue moon. The story is a bit different when we move to the rear side. The 12 MP f/2.0 sensor at the back is exponentially better than the front one. It includes OIS and HDR which show their worth. Not only this phone captures good daylight shots, but also due to OIS, the night shots are acceptable. To sum it up, the phone features a pretty decent rear camera with a not so decent front camera.
Specifications and Performance:
This is where all the Xiaomi phones shine – offering excellent specifications for budget price. This Mi Mix 2 runs on the Snapdragon 835 processor with the Adreno 540 GPU. This is a tested duo which is great for anything you might want to throw on it, be it multitasking or games. Speaking of multitasking, it ships with 6 GB of RAM which is enough for it to be working smoothly for years. The 3400 mAh battery is good enough for the complete day. So, you can't complain with this Mi Mix 2 on the basis of performance.
Conclusion:
Mi Mix series phones are unique concept smartphones with great overall performance. With the specs worthy of being in the list of best phones under 30000, this Mi Mix 2 handles everything smoothly except the front camera. So, if you can compromise with that, this smartphone has a lot to offer
PROS & CONS
Pros:
Bezel-less top display
Great Performance
Ceramic back looks gorgeous
Cons:
Mediocre front-facing camera
No headphone-jack
EMUI is not for everyone
---
Nokia 8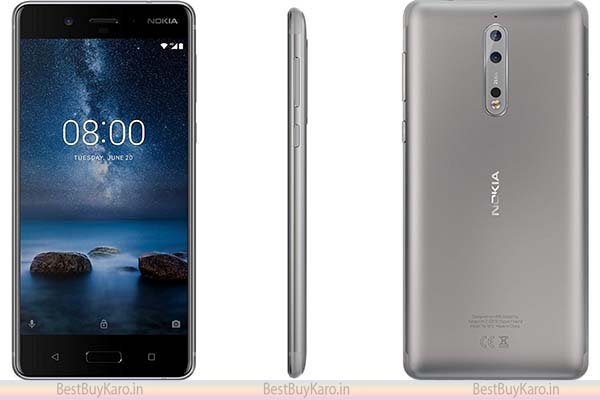 This Nokia device is one of the oldest smartphones on this list of best phones under 30000. Launched in October 2017, this smartphone is still a pretty good value for money. It offers excellent specifications and a flagship experience but is the sturdy design and the rock-solid Nokia reputation good enough reasons to buy this phone? Let's find out.
Quick Review Of Nokia 8 With Price
Build and Display:
This is the part that makes this phone creep easily into the list of best phones under 30000. On the front it has a beautiful but outdated 16:9, 5.3-inch (1440×2560) IPS LCD display with a whopping 554 ppi (pixels per inch) density. The display is sharp and bright and is protected by Gorilla Glass 5. The phone does have huge bezels both on top and bottom and this may be the only thing that could go down as a negative. It employs a home button in bottom bezel which also doubles up as a fingerprint sensor. The touch capacitive buttons are also alongside the home button. It also has a USB-C port down there which supports quick charge 3.0. The back and the frame are made of 6000-grade aluminum. It is easily one-hand usable and feels great to hold.
Cameras:
It packs a dual camera setup on the rear with a 13 MP f/2.0 sensor which features PDAF, laser AF and OIS. And the main camera is supported by a 13 MP monochromatic lens f/2.0. The still images are great and the HDR kicks in automatically and it does a great job maintaining the exposure level. The Nokia OZO audio ensures that the recorded audio is 360 degree and with best noise cancellation. On the front it has a 13 MP f/2.0 sensor which gets the job done. All the cameras are branded by Zeiss Optics which ensures great performance of the camera module. The video quality is great but in terms of sheer details of the static images, the camera falls short of the competition.
Specifications and Performance:
The Snapdragon 835 chipset was the flagship performer last year and is still the second-best chip offered by Qualcomm. It is paired up with an Adreno 540 GPU which should work fine for all day-to-day tasks and medium to heavy gaming. The 4 GB RAM may seem less today but as this phone runs on stock android so, the RAM is pretty well optimized. The 3090 mAh battery is average and should last a full day for moderate user. There is no notification light, although there is an always-on display which gives the notifications at a glance. The signal reception and the call quality on this device is better than the competition.
Conclusion:
This Nokia phone is different than other phones on this list. It is not for someone who just boasts off the newest hardware of their device. It is for someone who appreciates the elegance this phone carries. So, if you want a sturdy design and performance along with the Nokia trust (which comes bundled up with Android One program), this is a great phone to consider.
PROS & CONS
Pros:
Great Build Quality
Good Performance
Clean Near Stock Android Experience
Cons:
Heating Problem on Intensive Gaming
Outdated 16:9 Display
Average Camera for Still Shots
---
iPhone 6s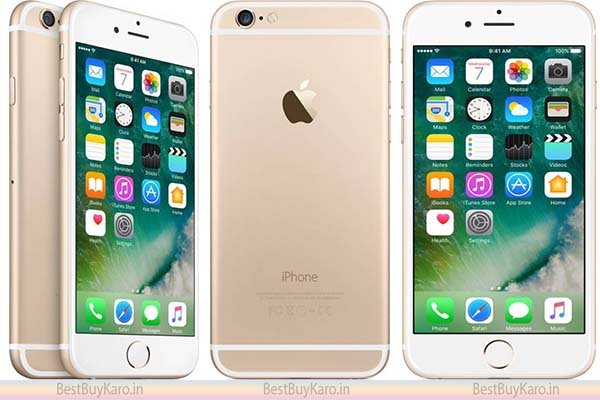 iPhones always age gracefully. That is why it is easy to recommend them after some years of their launch as they get real value for money. iPhone 6s is no different. It was one of the most popular phones in its time and still is a pretty good performer. So, let's get down to the reasons why we placed it in the list of best phones under 30000.
Quick Review Of iPhone 6s With Price
Build and Display:
The 's' generation of the iPhones look a little similar. The aluminum build, curved sides and huge bezels around the display, they all will feel familiar to previous iPhone users. But this time Apple decided to have antenna lines all over top and bottom back of the phone, which just look bad. On the front, there is a 4.7-inch (750×1334) LED-backlit IPS LCD display which also supports 3D Touch – which is integrated very well inside the iOS ecosystem. The 6s screen is not as good as the Samsung's AMOLED but still they are pretty great offering excellent brightness and viewing angles.
Cameras:
iPhone 6s cameras are good but they just fall short of their competition, which is acceptable considering it is a three-year-old phone. It has a main 12 MP f/2.2 camera sensor which can take videos in 2160p at 30fps. Iphone 6s also supportslow-motionon capture where it can take videos in 720p at 240 fps. It does miss any stabilization so, that's a bummer. On the front, it features a 5 MP f/2.2 sensor which is surely an upgrade from iPhone 6. HDR is available on both the cameras which surely helps in maintain the exposure level. Overall, it's an excellent cameraphone because the color reproduction is natural and it has a vast dynamic range.
Specifications and Performance:
This iPhone 6s runs on the A9 chip and a PowerVR GT7600 GPU. It is supported by 2 GB of RAM, which might seem low today but the RAM is managed exceptionally well. It smoothly handles everyday tasks.  The on-board storage is 32 GB which is not great for multimedia purpose. All this is powered by 1715 mAh battery which is good enough for a moderate use but a heavy use will make you go running for a charger. It can play games like PUBG but it heats a little.
Conclusion:
So, did it deserve the place in the list of best phones under 30000. Well, the answer may differ for all but for me, it totally did. It handles everyday work like a breeze while churning out some good shots when needed. Plus, the Apple brand name can't be ignored. This phone is not for everyone but if you are a moderate looking for a great phone that has value, iPhone 6s is a great choice.
PROS & CONS
Pros:
iOS 12 update brings a lot on table
3-D touch works great
Good Display
Cons:
Not the best performer out there
Low-light photography is just average
Battery life can be better