The range of Rs. 20000 – Rs. 25000 is a hot one in India right now. With competition growing every day, its only the customers that benefit. Companies like Xiaomi and Honor tend to bring as many of flagship features under budget as they can. This makes the performance to price ratio rise considerably. So, I have compiled a list of best phones under 25000 in India to help you make the right choice in getting the best deal you can. Every phone in this list of best phones under 25000 in India returns high value so you cannot go wrong with any of them. Each of them has their pros and cons and be sure to get the one which suits your needs the best. So, here we go.
Note: Actual prices may vary when you visit the respective site through the link below, as it is subject to change due to various reasons
Top 8 Best Phones under 25000 in India in Nov 2018 To Buy Online
Poco F1 by Xiaomi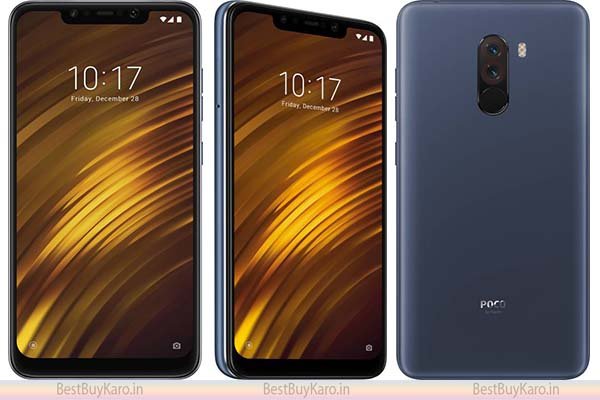 If you haven't heard of this smartphone, then sorry but you have been living under a cave. Xiaomi introduced this Pocophone with all the best in class specifications available in a price where it just felt impossible. It was soon popularized as a 'flagship killer' (One Plus) killer. And it wouldn't be wrong to term it that. It has sure cut some corners to achieve this aggressive price tag but its powers easily overshadow those corners.
Quick Review Of Xiaomi Poco F1
Build and Display:
The Poco F1 is a little different from the phones we are used to see in today's smartphone business. It houses neither a metal body nor a glass one. It too like most of the new phones have a notch at the top which houses the camera module and the IR face recognition system. At the back it has the dual cameras with the perfectly placed fingerprint sensor.
In design they have cut some corners like making a plastic body instead of metal and the design isn't unibody which we expect from most of the phones even in this price range but those things won't bother many in real life. A type-C port is always welcome in mid-range smartphones. The 6.18-inch (1080×2246) display is bright and sharp. The display is too much cornered at the edge but that's a personal preference. The display will serve well for every multimedia requirements.
Camera:
At the back, it has a dual camera setup with a 12 MP f/1.9 primary sensor and a 5 MP f/2.0 depth sensor. The primary sensor seems capable enough of taking good shots. There is an option for enabling HDR which does make a difference for the better in how the image looks. Photos taken in daylight have good exposure, and objects at a distance are detailed enough. Low light camera performance was just average.
Its AI mode changes the settings automatically to night mode under low-light conditions which takes time to capture more light and hence more details in the image. This phone has also an option for slow motion videos at 240 fps at 1080p. On selfie front, there is a 20 MP f/2.0 shooter which works really well. In favorable light, it has the ability capture good detail and the portrait mode produced a good bokeh effect. On video front, you can capture at 4K but the EIS doesn't kick in at 4K. So, you don't want to walk around filming at that resolution.
Specifications and Performance:
This is the strong part around which the phone was built and makes it easy for this phone to top the list of best phones under 25000 in India. The flagship Snapdragon 845 processor paired up with Adreno 630 GPU which gives excellent performance. There is an option for either 6 GB or 8 GB of RAM.
This all is powered by a huge 4000 mAh battery which easily lasts over a day for the heaviest of user. The Poco F1 is fast and there is no noticeable lag or stutter. The animations feel snappy and the Poco version of MIUI feels better to use. This phone uses the earpiece as a secondary speaker to give a stereo effect which is great for the given price.
PROS & CONS of Xiaomi Poco F1
Pros:
Flagship Processor and GPU
Great Battery Backup
High Performance to Price Ratio
Cons:
Low-light Camera Could Be Better
The aesthetic of the base model might not feel premium
No EIS at 4K
Conclusion
With the mid-range segment swarming with phones, this Pocophone has made mark of its own. The Snapdragon 845 is unheard of at these prices and the big battery makes the experience so much better. This is one of the best devices in this list of best phones under 25000 in India. So, if you want the best bang for buck, this device is a no-brainer.
iPhone 6
To all the techy people, this phone might feel as a strange choice for the list of best phones under 25000 in India. The iPhone 6 generation is now four years old, but it hasn't stopped being a great device. And with the recently-released iPhone XS and XS Max, you can expect the iPhone 6 to get more affordable than ever. And with the new iOS 12 update, this deal might not be just about a hunt for the brand name that is Apple.
Quick Review Of iPhone 6
Build and Design:
iPhone 6 was one of the first phones by Apple which came out with a larger screen. Apple has gone back to making rounded edges and this works to create an impression that the phone is smaller than it is. It is comfortable to hold and grips well in the hand. It is a thin and light device (129 g) which is a rarity to see now. The panel on the front is a 4.7-inch (1334×750) retina HD display. Brightness, contrast and color accuracy are also great.
Cameras:
On paper, the camera is a bit underwhelming. On the rear it has an 8 MP f/2.2 sensor accompanied by Apple's True Tone flash so indoor shots don't look monotonous and washed out. It produces clean, detailed and well-exposed photographs in most conditions. The front-facing camera is a 1.2 MP f/2.2 sensor which captures some shots which don't seem possible considering its specs. In brighter conditions, the camera works really well and it would be difficult to differentiate between it and its newer models' photos in same scenarios. There's also a slow-motion feature that lets you capture at 240fps. The videos lack stabilization but still are pretty good.
Specification and Performance:
iPhone 6 is running on a dual-core A8 CPU with 1 GB of RAM and a M8 motion coprocessor. There are models with 16 GB, 64 GB and 128 GB but the best value is in the 64 GB variant. It is powered by an 1810 mAh non-removable battery. This all may seem a little too thin on paper, but mind you, this device does churn out some good performance. Especially after the iOS 12 update which brought some much-awaited changes to all the iPhones. It can smoothly run multiple apps at once. But it does lag if you try to play heavy games on it. If you are someone who just uses base application, then this phone packs enough firepower. Perhaps more importantly, battery life is also excellent. The sound from the speakers is not stereo but is very good.
PROS & CONS of I-Phone 6
Pros:
iOS 12 makes the experience great
Display is beautiful
Speakers sound balanced
Cons:
Outdated processor
Below-average Camera
Not a very sturdy design
Conclusion
Simply put, this phone is for Apple's loyal fanatics who can't afford the far more expensive models. After years of its release, iPhone 6 is still showing pretty great value and if want an Apple experience for doing day-to-day tasks, this phone should be at the top of your list.
Honor Play
Honor Play, which came out just before the Poco F1, was the attempt by any manufacturer to bring flagship processing capabilities in sub 25K segment. Honor with this phone gave an excellent fight to companies like Xiaomi and made a statement that it is here to stay in the mid-range smartphone business in India. Many companies have made gaming phones which ran towards performance. This Honor device takes a welcome turn running after affordability. Let's see what paved way for this phone to enter this list of best phones under 25000 in India.
Quick Review Of Honor Play
Build and Display:
The Honor Play follows a similar pattern in design as the other budget Honor phones. But that doesn't in any way mean that it looks average. The metal unibody looks great and if you hold it on hand, you will feel how solidly the phone is built. The fingerprint reader is on the back and like all Honor devices, here too it is fast and accurate.
The Honor Play looks modern excluding the Honor branding at the bottom chin. That's because it packs a large 6.3″ display with tiny bezels and the notch. The notch houses all the sensors and also has a notification LED hidden beneath the earpiece grill. The type-C port is always good to see. The 6.3-inch (1080×2340) IPS LCD display, like all other Honor phones is great. It has excellent viewing angles and good color accuracy.
Camera:
On the back of this phone, we are looking at a 16MP f/2.2 sensor with phase-detection autofocus, accompanied by a 2MP module for depth information, and a single LED flash. There is no optical image stabilization for the Honor Play. It has an advertised AI camera but that in my opinion is still gimmicky. It does recognize what is in front of that camera but it often over saturates the shots.
The HDR is available and works well and offers pretty balanced shots. The normal night shots are nothing special. There is a night mode available which either requires a very stable hand (almost impossible to find) or a stand and up to 30s of waiting. The result is a photo with excellent exposure and contrast, detailed at that. On the front it packs a 16 MP snapper with a fixed focus lens. The details obtained are good and the colors are accurately captured and dynamic range is good for a selfie camera. The videos are shaky even at 1080p due to lack of any kind of stabilization.
Specifications and Performance:
This is where this phone shines. It packs a HiSilicon Kirin 970 processor supported by a Mali-G72 MP12. This is all powered by a 3750 mAh battery. It has a tweaked version of android 8.1 with EMUI 8.2. It does pack in some good functionality but stock android still feels much better to me. The GPU Turbo out of the box does make a difference. There is a notch staring at you but there's an option to hide it. The performance is excellent as expected from the chip but the snapdragon chip is superior. There is a single speaker at the bottom which is loud enough to get the job done. The overall experience is totally lag free.
PROS & CONS of Honor Play
Pros:
Great performance
Good battery life
Good all-round camera
Cons:
Phone can heat up under pressure
No EIS for 4K, 1080@60fps videos are terrible.
Night shots are pretty average
Conclusion
The Honor Play has one of the best bang-for-the-buck ratios, probably second only to the Pocophone F1 by Xiaomi. The Play has quite an impressive hardware package and is wrapped in metal, which is a build we rarely see these days at this price point. This is all enough to earn it a space in the list of best phones under 25000 in India. So, if you want high of everything – be it build, camera or specifications, Honor Play should be an easy option.
Huawei Nova 3i
Where Huawei's sub brand Honor is making phones, which will please the masses more, it is producing phones which look, feel and act more premium. After the success of Huawei P20 Pro which had great camera performance, they brought in Nova 3 and Nova 3i into the Indian markets to impress us. It has enough guts to stand in this list of best phones under 25000 in India but let's see how it does against the pool of competition it has.
Quick Review Of Huawei Nova 3i
Build and Display:
While most phones feature a metal unibody in this price range, this phone is one of the few to have a glass back. This gives a premium look and feel, and it wouldn't be surprising if someone mistakes it for more expensive phones from the same company. The frame and buttons are made from metal and they all feel sturdy.
At the front, this phone features a 6.3-inch (1080×2340) display with a notch that houses the dual-camera setup and the ear-piece. The display is super bright and has a real good color gamut. You can choose between different color temperatures like dynamic or cool. There's a fingerprint sensor on the back which is where it should be and works great as all Huawei phones.
Camera:
The Nova 3i is one of the first phones from Huawei to feature two cameras on either side of the device. At the rear, it comprises of a 16 MP primary sensor and a 2 MP depth sensor, while on the front it consists of a 24 MP primary sensor and 2 MP depth sensor.
Similar to all phones coming in this price range, this camera is equipped with an AI mode. When this mode is enabled, it recognizes the object to be captured and changes the exposure respectively. Photos usually have good edge detection and the camera managed good color reproduction making shots look more natural. That AI mode shines in low-light as it automatically switches to night-mode which give some very detailed shot.
The selfie camera takes good selfies in different light conditions. An extra feature is HDR Pro which manages to get the exposure of the image just right. The videos are capped at a maximum of 1080p at either 30 or 60 fps, which is disappointing as the chip is capable of handling 4K footage. The lack of any form of stabilization hurts too. The Nova 3i is also capable of 480fps super-slow-motion capture. Its camera is good enough to land it a place in the list of best phones under 25000 in India.
Specification and Performance:
Like most Honor and Huawei devices, this Nova 3i is powered by a Kirin chipset. It offers a HiSilicon Kirin 710 SoC with 4 GB of RAM and 128 GB of internal storage which can be expanded using a micro-SD card on a hybrid SIM slot. In terms of software, the Huawei Nova 3i runs on android 8.1 Oreo with Huawei's custom EMUI 8.2 on top. It does replicate the power in real world where it can easily play games like Asphalt 9 and PUBG. PUBG runs on medium graphics on automatic but can be turned to high where it lags a little but still is playable. Though, it does get hot on long gaming sessions.
PROS & CONS of Huawei Nova 3i
Pros:
Great Build and Design
Fluent Performance
Good Cameras for Static Shots
Cons:
Heats while Intense Gaming
No Stabilization for Videos
No Display Protection
Conclusion
Nova 3i is Huawei's step into the mid-range segment. Clearly, it isn't the one for the heaviest of gamers, who should look to its sibling Honor Play for that. This is more oriented towards the business class who care more about the day-to-day performance and the feel of the phone. So, if you are the target audience, you have found a very capable match.
Huawei P20 Lite
This Huawei device is very similar to its sibling nova 3i which is above in this list of best phones under 25000 in India. Despite sharing the name P20, the lite version has a little in common with the Pro. Though it does flaunt a similar glass and metal body, dual rear cameras, a 19:9 display. Let's find whether it can survive the fierce competition out there.
Quick Review Of Huawei P20 Lite
Build and Display:
Huawei P20 lite isn't like other smartphones on this list and the difference becomes evident as soon as one holds this phone. The architecture of this device is smaller to other devices and fits perfectly in one hand. This phone follows a glass-sandwich design that is glass on both sides. A glass back does look premium but it does have its negatives too. Not only does it scratch easily, it is a fingerprint magnet as well.
The front packs a 5.84-inch (1080×2280) display with a relatively small notch at the top. The display is truer to original colors and jut feels more pleasing to the eyes than other phones in this segment. It is bright, vivid, and punchy, and is one of the highlights of this smartphone helping it enter the list of best phones under 25000 in India.
Cameras:
The P20 Lite has a dual camera setup at the back, consisting of a 16 MP f/2.2 primary sensor and a 2 MP depth sensor. There is also a 24 MP f/2.0 front camera. This camera is all about all-round performance. Outdoor shots taken by the rear camera in good lighting have great level of details and great color accuracy.
The magic soon starts to fade under low-light. Although the images taken under artificial lights are good but the noise is easily noticeable. The same goes for the front camera too. It takes stellar selfies in natural light but the images become grainer as the light starts to go dim. The videos have details but having no stabilization just makes things worse.
Specifications and Performance:
The Huawei P20 Lite is powered by Huawei's own HiSilicon Kirin 659 processor. This is the same processor found in several mid-range Honor smartphones such as the Honor 7X and Honor 9i which comes out as quite a bummer. It has 4 GB RAM and 64 GB of storage. All this is powered by a 3000 mAh battery and runs EMUI 8.0 on top of android 8.0 Oreo. When it comes to performance, the Huawei P20 Lite is as expected.
The smartphone can tackle basic day-to-day tasks like browsing the web and using social media applications easily, but struggled a bit when pushed. It can play games like PUBG but they are only respectable only on low graphics.
PROS & CONS of Huawei P20 Lite
Pros:
Great Build Quality
Vibrant Display
Easy One-Hand Usability
Cons:
Sub-par Processor
No Video Stabilization
Average Low-light Performance
Conclusion
The Huawei P20 Lite is a compact smartphone with a crisp and vibrant display, great aesthetics and decent cameras. If you want a modern-looking smartphone with a great display and a smaller architecture, then this is the best device you will find on this list of best phones under 25000 in India.
Oppo F9 Pro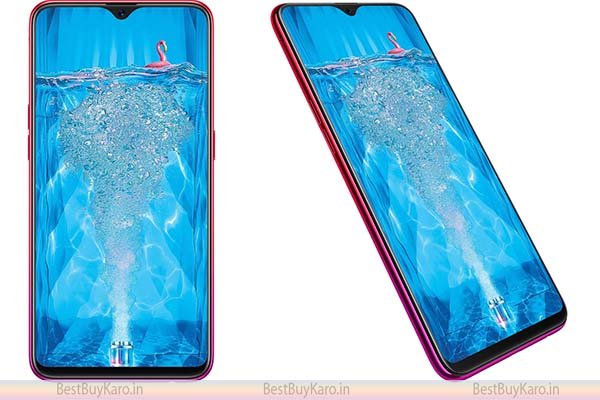 The Oppo F9 Pro is a phone which will give you a run for your money if you want eye-catching aesthetic. It is available in three different shades and all three of them have the same design inspiration – flashy and instantly noticeable and recognizable. This phone is sure to get you couple of glances walking down the road. But its flashy look isn't the only thing that makes it worthy of a place in the list of best phones under 25000 in India.
Quick Review Of Oppo F9 Pro
Build and Display:
We have already talked a lot about its unique back design. Let's come to the front, shall we. It flashes a 6.3 inch (2340×1080) full HD display with a water-drop notch at the top. Even though the notch is small, it does take some attention and there is no way to hide it. It was surprising to see a Micro-USB port on the bottom rather than a more modern Type-C port, but this is required for Oppo's VOOC rapid charging system.
The frame isn't metal and there is no official glass protection certified by Oppo which is unexpected at this price. The display panel used is an LTPS (low-temperature polysilicon) LCD panel, which consumes less power but is expensive to manufacture while giving crisp and bright image outputs.
Cameras:
This Oppo F9 Pro packs a dual camera setup at the back having a 16 MP primary module and a 2 MP depth sensor. The front camera is a 25 MP shooter which takes good detailed pictures. Portrait mode is available on both front and the rear camera. Indoor photography under artificial lights isn't as appealing. In daylight, the camera app was fast, locking focus quickly. At night, there was quite a bit of focus lag. Shots came out with noisy details and a lot of distortion when dealing with even slightly moving objects. While taking videos, a lot of focus shifting, and the lack of stabilization was easy to spot.
Specifications and Performance:
On Oppo F9 Pro, there is an octa-core MediaTek Helio P60 processor with 6GB of RAM and 64GB of storage running this device. This chipset is the best by MediaTek in mid-range as it offers great performance, AI capabilities and runs on lower power than comparable Snapdragon chipsets.
This horsepower is powered by a 3500 mAh battery which should comfortably last a day for moderate to heavy users. And when you find your battery percentage dropping, there is an option for VOOC's rapid charging. But to utilize this feature, it is mandatory to use the supplied charging brick with its cable, which some might find cumbersome to carry everywhere around. Like all OPPO phones, this too has a skin (ColorOS) over android of which I am not a personal fan and recommend using a launcher over it.
PROS & CONS of Oppo F9 Pro
Pros:
Great Battery Life
Sharp Screen
Bold Aesthetic Choice
Cons:
Gets Slightly Warm Under Stress
Disappointing Cameras
ColorOS is Difficult to get Hang Of
Conclusion
There are few smartphones today willing to take such experiments on the design. Kudos to Oppo on that for sure. If you are the person who wants those flashy red and purple colors, then you have found your match on this list of best phones under 25000 in India.
Vivo V11
With companies like Xiaomi and Honor taking on the online business, it's the companies like Oppo and Vivo which take huge shares in the offline shares. This mid-range phone is packing some features which makes it stand above the others in its vicinity. With huge advertisements pouring in from all sides, it seems that Vivo have made a phone which is here to give a good challenge to others. Let's se how it holds up in our list of best phones under 25000 in India.
Quick Review Of VIVO V11
Build and Display:
This is the strong point of this device. It feels well balanced in the hand and hence gives it a premium feel. The back has a fading colour which is deep on the top and light at the bottom. It really looks good and again makes it seem that the phone is more expensive than its actual price.
Coming to the front, it has a teardrop style notch on a really good 6.3-inch FHD+ display. The chin down the bottom is also really thin which makes the cornered display feel more natural and right. The premium aesthetics paves way for this phone in the list of best phones under 25000 in India. It does have a micro-USB down under, which is a little disappointing but not a deal breaker as it does support fast charging.
Camera:
Vivo advertises their devices as Camera and Music phones and this one does live up to the former promise. On the rear, we have got a 16 MP primary sensor and a 5 MP depth sensor for those portrait shots. Under natural lighting condition, the images taken are sharp and full of details. It captures the colours just right and the auto HDR makes shadows and details even better.
It does support slow-motion video capture up to 120 fps but the quality is not great. Bokeh shots are average. Problems arise in low-light photography like most of the mid-range phones. It does try to take in as light as possible but it just isn't enough. The video performance isn't great either and there is no form of stabilization (even with a fully capable chip and the hardware) so, the videos are shaky. On the front, it has a 25 MP shooter which captures good details and is reliable.
Specification and Performance:
This is probably the area where this phone lags behind its competitions. It offers a MediaTek Helio P60 processor with 6 GB of RAM for smooth multitasking. Don't get me wrong, P60 is a quality chipset which can handle day to day working with ease but the competition brands offer the same chipset in their variants for a much lower price.
The 3315 mAh battery is well optimized and lasts a complete day easily on moderate use. The UI is workable but the Full-Screen gestures are a pain on this device as compared with MIUI 10 and are very unintuitive and difficult to use. There is a mono speaker which does get loud but the sound quality is not great considering this company advertises their phone as music phones.
PROS & CONS of Vivo V11
Pros:
Great Display with Teardrop Notch
Good Cameras for Static Shots
Fast Charging Support
Cons:
No Stabilization for Videography
Difficult to use Full-Screen Gestures
Average Sound Quality from Primary Speakers
Conclusion
This Vivo device packs a good punch and has the ingredients to be successful in the Indian market. If your main concern from the phone is how it looks and feels in the hands and you are not planning to do any heavy gaming on it, then this is the phone to consider.
Samsung A6 Plus
Now we come to the phones which don't offer a great performance to price ratio but are still a pretty good deal because they have one thing supporting them which others lack- a huge customer base and great customer service. Samsung A6 plus fits that description perfectly. With a design which sometimes feel worth the extra bucks, this phone just makes into our list of best phones under 25000 in India. Let's see why.
Quick Review Of Samsung A6 Plus
Build and Display:
The Galaxy A6 plus is made mostly out of metal, and a result, feels quite premium. The Infinity Display covers most of the front but it isn't totally borderless. While this smartphone looks premium, it is quite heavy (191g) and wide, which makes one-handed use very difficult. The Galaxy A6+ has a 6-inch full-HD+ (1080×2220) Super AMOLED display with an aspect ratio of 18.5:9. Samsung is known for making the best displays in the industry and they have equipped this phone with same high-grade displays.
With great viewing angles, bright colors with good contrast and deep blacks, the AMOLED panel is the x-factor of this smartphone. The screen also has an always-on mode that shows the time, date and basic notifications without even touching the phone.
Cameras:
The Galaxy A6+ features a dual-camera setup at the back consisting of a 16 MP f/1.7 primary sensor, and a 5 MP f/1.9 depth sensor. At the front, the smartphone has a 24 MP f/1.9 shooter. Both front and rear cameras have single-LED flashes.
The rear camera faces a focus lag but captures above average photos in natural light with accurate colours and good details. Images taken in low-light aren't great but still are usable. Same is the case with the front camera. It performs decently well in lighted conditions but fails to impress in low-light conditions. Though the front flash helps a little.
Specifications and Performance:
The Galaxy A6+ is powered by the Snapdragon 450 processor clocked at 1.8GHz paired with 4GB of RAM. It is supported by an Adreno 506 GPU which pushes the performance to a great extent. It is powered by a 3500 mAh battery which is good enough to pass the end of day easily, considering the low power consuming chip. The Galaxy A6+ handles day-to-day use like casual Web browsing, using social media apps quite well.
However, while stressing the phone, slowdowns and stutter become evident which was not surprising at all. Like all Samsung phones, it runs a heavy Experience UI which has two versions of same apps (one from Samsung and one from Google) which more often than not becomes annoying. A new feature called 'Chat over Video' allows users to chat on WhatsApp and the default messaging app while watching videos. This feature is quite useful and works well during use.
PROS & CONS of Samsung A6 Plus
Pros:
Detailed Super AMOLED display
Great Build Quality
Good Battery Life
Cons:
Sub-par Processor
Cameras Struggle in Low Light
Weird Placement of Fingerprint Sensor
Conclusion
The Samsung Galaxy A6+ has one of the best displays in this price range. It's battery life is good and so is the build quality. However, considering its price tag, it doesn't offer the performance like its counterparts. So, who is the target audience? It's the Samsung loyalists who want a great display and good build quality to accompany it. So, if you do fall in that specific category, do have a look at this phone.
[td_smart_list_end]
All the above mentioned mobile phones are much better than the phones what we didn't mention here, that's why these are the best phones under 25000 in India in November 2018.