Technology is enhanced in the past few years and the TV brands are working on bringing it to their Television sets. So that they can serve us smart features along with quality. After getting into a hard check on various aspects like price, technology, features, customer reviews, we have chosen top 10 list of best led TV brand in India. If you are looking for best led television for your home or office, you can consider these as they are the best right now.
Best Led TV Brand In India, Top 10 List in 2019
SAMSUNG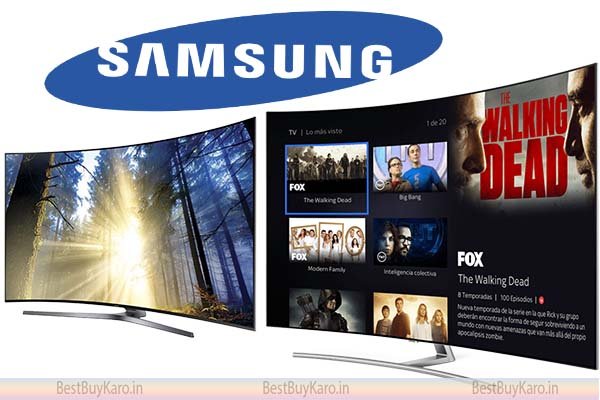 Samsung is a well known South Korean multinational company and as a brand one of the favourites of the Indian market. They have constantly amazed their customers with high-quality products and modern technologies. Keeping in check the advancement in technologies, Samsung once more making plans to surprise you in 2019. Though the price of television varies from 5 lakhs to 10,000, you will certainly going to enjoy the product that you will purchase. It is one of the best TV brands in India.
The Rollable and flexible Television is something that is surely going to be a hit in the market next year. Samsung is planning to launch a television which is going to have a flexible screen and can be rolled into a box. The screen can be curled horizontally and can be moved easily when rolled up. A bracket is placed at the back side of the screen at middle that keeps screen flat and curved as desired by its user. By launching this commercial Television this year, Samsung surely is giving its competitor a tuff competition. They are eyeing to be the best LED TV brand in India
Samsung has always target to provide its costumer with perfect picture quality. With Static development in HDR videos, Samsung is introducing HDR10+. Recent certification has assured that the qualities of the videos are going to be even better. With the advancement of this technology, it is going to produce brighter highlights alongside immersive and realistic picture quality. HDR10+ is eying to revolutionize home entertainment by delivering immersive, lifelike visuals at consumers' living room. Samsung CEO Kim said "The introduction of the HDR10+ certification logo represents the groundwork that we are setting for the ultra-high picture quality TV market,"
In the year 2019, Samsung is going to let you access your computer remotely. Samsung is going to introduce remote access to computers in its 2019 lined up smart televisions. You can connect your PC, Laptop and even galaxy Smartphone to your televisions. It is not going to be similar to that of miracast as you can do much more than just watching videos. Samsung also confirms that the next generation televisions will come pre loaded with keyboard and mouse control. There are not much details revealed by the company right now but surely they are thinking about making our task easier. At the same time making us a bit lazier.
Samsung surely have a lot of task to implement in the upcoming days but they are surely planning to become the Best Led TV Brand In India . Other than these unique features, we might also get Google assist support. Samsung is going to ditch BixBy voice assist completely. Google assist along with Amazon Alexa,  right now are the most popular and widely used Voice assist softwares. Samsung has taken this into account and are going to introduce Google assist support for the convenience of their users.
Samsung is going to launch some impressive features and outstanding boost in their software which is going to be groundbreaking in upcoming days. The Voice guide and better sound are some other improvements Samsung is trying to implement but there is not much details available right now. But one thing is for sure, If they end up properly executing these plans, they will be the Best Led TV Brand In India.
SONY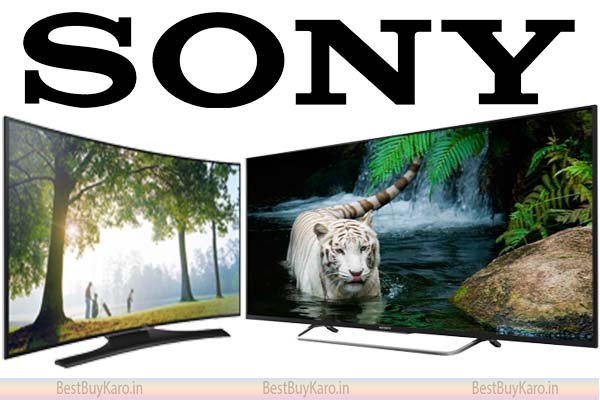 Sony is a Japanese multinational company whose headquarters is situated near Tokyo. It has a diversified business mainly focusing on the field of gaming, Electronic, financial services and entertainment. Sony Company introduced BRAVIA name which is an Household brand owned by Sony. This Wing of Sony consist of High-definition LCD televisions, projection TVs and front projectors, home cinemas and the BRAVIA home theatre range.  Being the third largest television manufacturing company in the world , they are certainly one of the Best Led TV Brand In India. It has constantly amazed its costumer with high end televisions which provides outstanding audiovisuals.
Sony Bravia series televisions are one of the favorites in television market and 2019 they are surely going to maintain such status. Brand has announced to launch Bravia OLED Master Series A9F in India this New Year. Available in two sizes, 55 inch and 65 inch , these televisions have high initial market price at approx 3 lakhs and 5 lakhs. However, the price will drop when company will introduce smaller sized televisions. Sony claims that these new television will create impressive contrast, clarity and unprecedented black with over 8 million self-illuminating pixels. These televisions will feature new Picture Processor X1 Ultimate for enhanced audiovisuals.  Furthermore, its enhanced Acoustic Surface Audio+ technology will generate some of the best audio quality.
Netflix calibrated mode will tweak your whole TV viewing experience.  Sony Company teamed up to create Calibrated Mode. The upcoming A9F OLED and Z9F LED TVs are going to feature this mode. Netflix claims that this feature will enhance the whole audio and visuals of the televisions .Netflix is taking this initiative as the viewers are opting more and more HDR and 4k content. They want to make the whole experience providing them studio like quality instead of dreading Soap Opera quality.
Sony smart Televisions were facing some issue regarding some bugs which caused some security issue last year. The problem is being corrected and they are making their smart television much safer. Sony Bravia OLED A9f television series has won the gadget of the year award in 2018 Tech and auto awards. This tells in itself that Sony is the best TV brand in India.
PANASONIC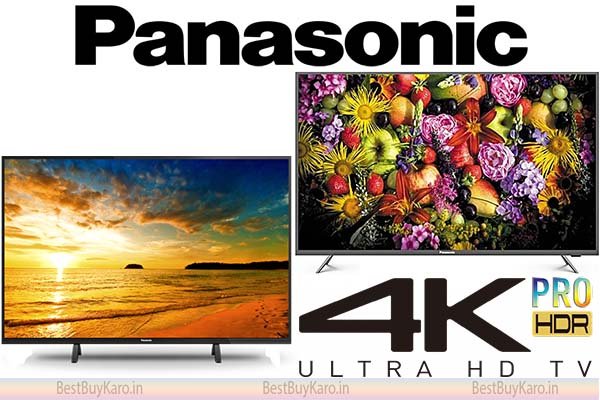 Panasonic is a Japanese multinational company formally known as Matsushita Electric Industrial co. LTd. Founded in 1918, this company is one of the biggest Japanese electronics company widely known for outstanding electronic product and other services it has to offer. Being fourth largest television manufacturer company , their televisions are of superb quality and features some advanced technologies. It is one of the Best Led TV Brand In India. The products of Panasonic are affordable and the coustemer service is widespread.
In the recent CES(Consumer electronics show) Panasonic is expected to showcase new advanced televisions, especially one with OLED technology. Panasonic televisions have been using LG display for a long time. This collaboration happened because the Panasonic disbanded its OLED lighting department in 2014. However, Panasonic has released a new pair of televisions in 2018 and this year they are eying to up their game.  They feature an HCX processor, dynamic LUTs, Dolby Vision, support for HDR10+, a Dynamic Scene Optimizer, and a Technics 80-watt speaker. Running on Firefox TV OS, the televisions has all the basic features that one can ask for.
It has been recently announced that Panasonic has deployed HDR10+ firmware in their 2018 and upcoming smart televisions. The 20 century Fox will start encoding new films with this technology. So, If you have an advanced televisions this year, you will get to watch videos in even better quality than HDR10.  This upgrade will either come pre loaded or will be implemented by a firmware upgrade. This will dramatically improve the quality of the videos that you watch.  This is relatively new tech, therefore, right now there are no encoded movies yet, however Warner Bros. and 20 century fox is on-board.
The Panasonic televisions are one of the oldest and Best Led TV Brand In India. Their products are available at different sizes and the price range also varies. With the launch of HDR 10+ technology, they are giving a tough competition to Samsung this year. These 2 companies are the only companies who are launching HDR10+ for now. The Panasonic is an old and trusted brand in India and many people still prefer this brand. Japan is known for its advanced technology and this multinational company of Japan has certainly have been one of the best television brand in India. They are taking initiative in introducing new tech to the world.
LG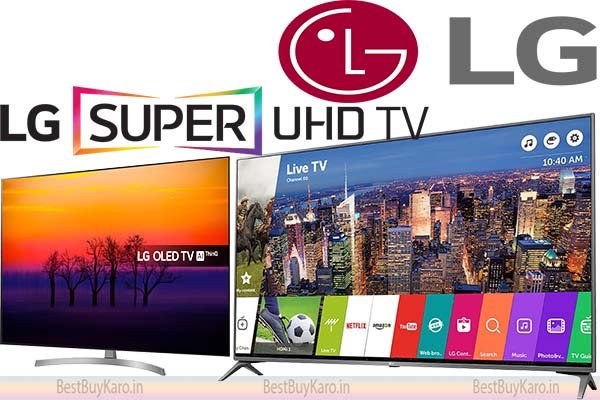 LG is another multi-national South Korean company in the world known for their superb quality and implementation of advanced technologies.  On a race of becoming the Best Led TV Brand In India , LG is giving a tuff competition to its competitors, LG has amazed the peoples in this year CES as well.  Every year LG takes the opportunity by CES to showcase what new tech they have to offer. Last year they showcase "The wall" and Rollable LED TV's which were aspirational.  This year company takes a step further and introduced 8k televisions and insane techs like transparent OLED. LG OLED TV's are the most popular in market right now and with the new technologies that is launching this year, LG is certainly eying for a number one spot in television market and becoming the Best Led TV Brand In India.
LG is planning to launch a big screen TV in 2019 that can be folded like a poster. No one would have though few year earlier, that we can fold a television like a poster, but LG has done it. They are launching foldable big screen televisions. The envisioned 65 inch television will retract automatically by just pressing a button. The television was showcased in last year CES and the company is going to make its commercial release this year. This television is going to do wonders in the television market. If the things goes as planned, this television is going to be the favorite of consumers despite the price. It will certainly make LG, one of the Best Led TV Brand In India. The price is not yet have been confirmed, we just have to wait and watch and hope that the price will be reasonable and affordable.
LG is not just making a foldable television but also working on better and enhanced TV viewing experience. LG Televisions will Use an advanced AI for better picture and sound based on Content that you are watching. This new advanced AI feature is powered by the Lg's 2nd generation Alpha 9 Gen 2 intelligent processor. This New AI will automatically analyze the content that you are watching and optimize the content to the ambient condition. It will also process the light level of the room automatically adjusting the brightness to compensate as needed.
LG is going to launch its 88 inch 8k OLED television named Z9 this year. This television will provide four times the resolution of current 4K TVs and eight times the resolution of a full-HD set on store shelves. The only issue for now is that there is not much 8k content in the market right now. However, this television is at the top when it comes to display quality, no other television is even near to the quality that you can get.  The price is relatively high right now but it is a matter of time as soon the market is going to be filled with these beasts and the price will Fall. By new initiative, LG will surely become one of the Best Led TV Brand In India.
VU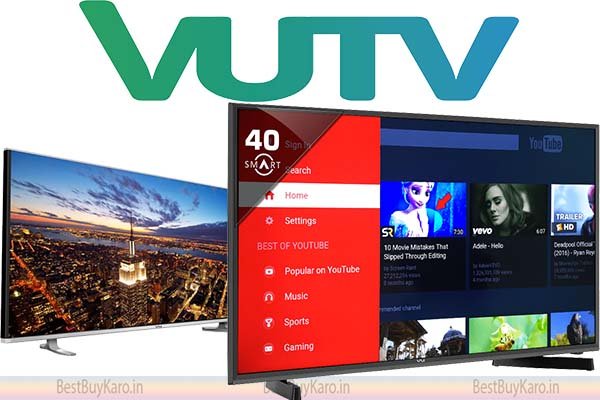 Vu is relatively new Indian based television brand formed in 2006 whose headquarters is situated in Mumbai. It is certainly one of the best TV brand in India.Vu is largest selling television brand across e-commerce websites in India. The price of the product is relatively lower and overall performance is satisfactory which has made it one of the favorites in Indian Television market. The components of the television are exported from China, Tiwan, South Korea and Japan. This Company sells its television in around 60 countries and is gaining relatively good profit each year. Being one of the few Indian companies who is making its mark in international market, this company is certainly providing its customer with affordable and decent product. The company sells most of its television online and has become the highest selling TV brand across e-commerce websites in India.
Vu has recently launched world's first 100 inch 4k television in the market at RS.20 lakhs.  After recently beating Sony in 4K segment, Vu is eying on high end segment by taking it to a whole new level. This television is an instant hit in the market and the overall functioning is impressive. Great surround sound, outstanding 3D graphics and flawless design has made this 100 inch television one of the favorites at high price range. By becoming the first ever company to launch 100 inch television in market, Vu has made it clear that they are going to give a tuff competition to television manufacturer giants like Sony, LG and others. If they keep on improving, they will surely become one of the Best Led TV Brand In India.
2018 has been one of the most productive year for Vu as a brand. This year, Vu has become the largest selling Television brand in E-commerce sites. They also implemented some advanced technologies and features in their televisions. This year Vu launched ActiVoice android televisions that become an instant hit in the market.  By launching the official advanced television series the company has seen a steady growth in their revenue. By launching 100 inch television Vu is eying an impressive 60 % revenue growth this year which is quiet ambitious yet achievable.
The one reason that Vu has become such a hit in India market is the price range and product this company offers. It is diverse and well thought out according to Indian people needs. We all want an impressive product at the least price which Vu has successfully done. They try to provide all the features that one can ask for and also keep the price affordable. This is the reason that the entire new tech they implement has a positive review. Whether, it's their Pixelight LED televisions or Activoice android televisions or even a gigantic 100 inch televisions. The time is not far, VU will be regarded as some of the Best Led TV Brand In India.
(TCL) iFFALCON
TCL corporation is a Chinese multinational electronic company. This company designs, develops, manufactures and sells products. They are widely known for superb quality of products at affordable price range.  This Chinese company has launched a new television brand for India market  with partnership with Flipkart , iFFALCON. TCL claims that it is one of the three television manufacturer in the world  and by launching this television brand in India they are trying to strengthen its position in the global market. They are targeting to become one of the Best Led TV Brand In India.
TCL has constantly amazed consumers with feature rich smart televisions and they have implemented all their qualities in iFFALCON televisions as well. The smart television in the market launched by this brand has certainly made the competition much tougher for other companies. The televisions are generally full of features and at affordable price range.  The 75-inch Ultra HD 4K Android LED TV is the most advanced television from IFFALCON. Priced above one lakh this television is yet cheaper when compared to products of other brand with similar features.
This television manufacturing brand has launched some of the least priced smart televisions which is making people opting for products from this company. The reviews are also great which result in people getting influenced in trying out this brand.  With Wide variety of products, this brand has fulfill the needs of every classes. The easy to use feature and advanced technology has made this company one of the favorites in the E-commerce market. IF they keep this up, they will soon be one of the favorites and Best Led TV Brand In India.
MI (XIAOMI)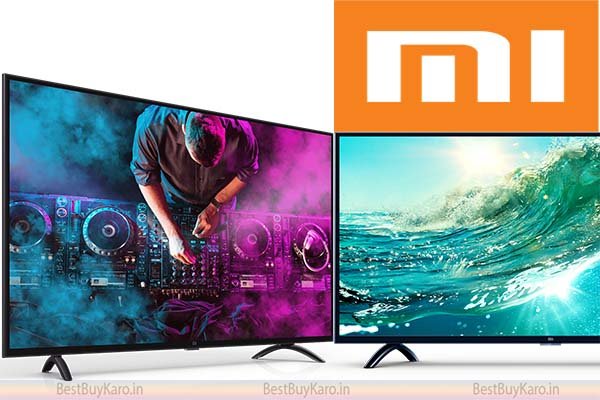 Xiaomi is a Chinese multinational corporation which is relatively newer brand and certainly one of the Best Led TV Brand In India. After Overshadowing Smartphone market, they are now spreading its wing to television market. They have launched some impressive smart televisions which have taken the market with a storm. As a brand, they have already become one of the favorites in Indian Household and people prefer the product of this brand. There is large variety of products available in the market and that too at every price range. One of the qualities that had made this company such a hit is that, they have found the perfect balance between affordable price range and feature they have to offer without compromising anything.
Xiaomi is known for its low budget products and this is one of the specialties of this brand. Recently Xiaomi television prices have reduced even further after new GST rates come into effect. India Government reduced the GST on televisions from 28 per cent to 18 per cent. Xiaomi's philosophy of keeping its profit margin for hardware products at five percent can be the reason for this deduction.  The good quality televisions cannot get any cheaper.
This new year Xiaomi is about to launch a completely new TV series in India. Xiaomi has been teasing about this launch from months and now it is almost confirmed. The televisions are going to be the biggest television yet offered by Xiaomi till now. Looks like this year every company is going for the size. Xiaomi has 55 inch variant televisions in the market till now so peoples are speculating that the new television could be of 65 inch or higher. They are most likely to offer 4k display which is going to be a plus point. The price is yet to be announced. One thing is for sure, Xiaomi is going to launch this television at the most affordable price range possible.
In earlier days people use to complain that the Xiaomi products are not available offline. Many people hesitate purchasing expensive product online without even looking it live. However, now Xiaomi is opening its store in different parts of the India making its product available online. You can go to its store and choose the best one as per your liking. There is no doubt that Xiaomi is moving in right direction. Only future will tell that can this company can influence the television market as it has influenced the Smartphone market in India. It looks like they will surely become one of the Best Led TV Brand In India.
ONIDA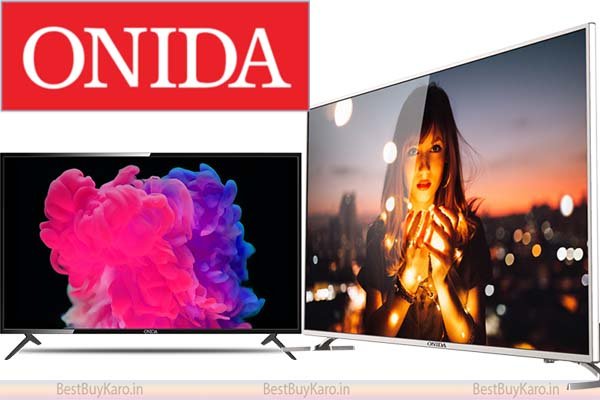 Onida is one of the oldest Indian multinational electronic company constantly working on improving the quality of our life. This company has different wings and successfully fulfilling the demands of its customers for a long time. With the recent boom in the technologies and new companies, Onida as a brand were constant with their product and services and hasn't introduced something unique and creative in televisions as oppose to other companies. However, it looks like they have buckled up and are going to work on getting things back on track.
Onida has recently launched new 4k Smart Android television series looking to increase revenue in LED television market. This television comes with HDR10 which ensures great quality display and also comes pre loaded with decent features. The variant is available at different price range which makes it a perfect product for every class. This television is certainly a great initiative by Onida to get back in the market and getting back to be one of the most trusted and Best Led TV Brand In India.
Onida has been in the television market for a longer period of time. However it look like they have lost its old touch in television market.  Only time will tell, will they be back with a bang or just become a television manufacturing company. Right now Onida has set up LED manufacturing plant and it looks like they are enjoying the new challenge.
KODAK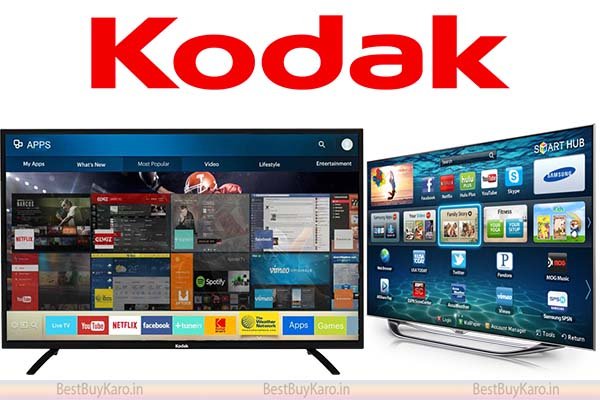 The Eastman Kodak Company  is an American based technology company which once was widely known for its cameras. They soon started launching another electronic products and are doing pretty well in this field as well. They have relatively doing well in television market. There are wide range of product available online and that too at affordable price range. Kodak televisions feature some of the basic technologies and this company tries its best to provide you with the things you paid for.They are one of the Best Led TV Brand In India.
Yet to make its mark in television market in India, Kodak has introduced some impressive Full HD televisions with superb audiovisuals.  Most of the televisions of this brand are affordable which is the main reason for its high demand on e commerce sites. Kodak had been actively looking for technology to enhance its product. The Super Plastronics Pvt. Ltd. has been license for manufacturing televisions for Kodak. They have given a tuff task for transforming the Kodak from a Camera brand to Television. It looks like they have been successful in doing so.
The main competitors of Kodak are Xiaomi and  Vu. The products of these company falls under similar price range. Kodak claims that their televisions are brighter and better than any other companies. But to be real, there is not much of a difference in product. It is just a matter of choice .
THOMSON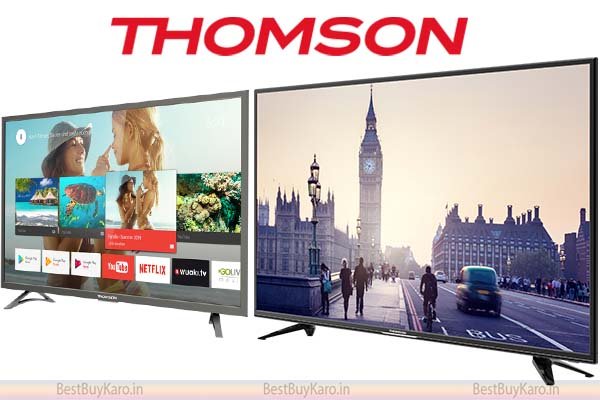 Founded in the year 1893, Thompson launched its first TV set in the year 1936 and from there they have constantly amazes the world with high quality of product and advanced television. This French Multinational company has been in Indian market for a long time. The company has witnessed the transition from Old VCR televisions to new LED televisions. They have certainly kept up with the market and tried to provide its coustemer with the best quality and superb service.
The recent GST plans have affected the price range of the televisions of this brand as well. There is a significant decrease of 8% or10% in price of televisions especially on the televisions up to size 32 inches. This will significantly affect the television market this year. With the drop in price range this year on television, companies are expecting a certain increase in the sales of television. This is a great opportunity for brands like Thomson to make its mark in Indian television market.
Through an exclusive partnership with Flipkart, Thomson will invest Rs.150 corers to set up TV manufacturing plant in Noida. Avneet Singh Marwah, CEO, SPPL, in an interview said, "We entered the market in April 2018 and have been able to beat the larger brands in the online sales. This is because customers are looking for large-screen televisions at an affordable cost,"   By making this statement, The CEO also make it clear , they are in the market and eying to be the biggest television brand .
Thomson as a brand is well known and they have never compromised with their quality. Whether its their build, design or feature, they have hit bulls eye in every aspect. This maybe the reason for their sudden success in online market. It is an Old trusted and Best Led TV Brand In India and provide impressive product with a price tag that is ideal for every class of Indian Family.